Entrepreneurship Education Program Coordinator
Under the direction of the Director of Entrepreneurship, the Education Program Coordinator provides administrative assistance in delivering instructional services pertaining to the Catapult Entrepreneurship Startup to Storefront and Catapult Culinary programs. This role is a key contributor to the success of the entrepreneurship programs.
This position coordinates registration activities, compiles program education schedule and coursework, provides program/class development assistance, and promotes the program workshops, classes and other activities to the target audience. In addition, the education program coordinator develops and maintains policies and procedures documentation for use as a reference guide and in training others, including working with the cohort members, mentors, and more. 
The Education Program Coordinator requires a high level of experience in training and development, curriculum development experience, strong verbal and written communication skills, and the ability to be a self-starter.
Job Duties
Works with Entrepreneurship Program Coordinator to promote the program workshops, classes and other activities to the target audience and may represent the program as required 
Assesses program needs with director and others. Recommends appropriate instructors/vendors.
Sets up classes, workshops, or seminars when appropriate; prepares and processes all related paperwork.
Develops publicity for workshops, programs and other activities and coordinates development of fliers, press releases and other media promotion to market the program.
Prepares class information including, schedule, course deck and verbiage 
Assists workshop instructors in developing/maintaining their handouts, class materials and maintains master file of these materials.
Coordinates the participation of cohort members in program activities including enrolling, monitoring attendance, and ensuring client/student completed forms are accurate.
Acts as liaison between contracted trainers, mentors and director of entrepreneurship
Responds to client/student inquiries concerning workshops, class and other program activities.
Prepares written reports consisting of qualitative and quantitative data related to program activities; assists with analysis and interpretation of data.
Coordinates data processing of class schedule file systems
Performs other related duties as assigned.
Qualifications
A bachelor's degree in education, business or a related field and/or 3 years of experience related to position. 
Experience in education/training including curriculum development  
Some knowledge of entrepreneurship ecosystem in the Pittsburgh region
Previous experience in a community-based organization, preferably in the Pittsburgh region. 
Must have strong and polished interpersonal, written and oral communication skills
Knowledge of Microsoft Office 
Creative and analytical thinker who is highly organized with the ability to manage multiple projects and tasks. 
If interested in applying, please send your cover letter and resume to lachelle@catapultpittsburgh.org.
Apply
Your application has been successfully submitted.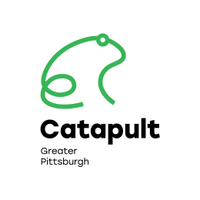 Dedicated to economic justice.