Financial Counselor
Purpose: 
Catapult Greater Pittsburgh (CGP) is seeking a motivated, experienced, self-starting individual who will provides group and one-on-one counseling to individuals and families seeking to improve their finances. In addition, this individual will provide assessments, crisis intervention, and case management to the participants within the homeownership and financial education department.  
Responsibilities: 
Financial Counselor reports to the Director of Homeownership, and is responsible for the following tasks: 
Learn the basics of the home purchase process;  
Coordinate logistics of financial education workshops; 
Work with community groups, human service agencies, faith-based institutions and others to establish relationships to increase the number of program participants; 
Maintain financial education curriculum with industry patterns and regulations; 
Responsible for data entry of all program related information; 
Facilitate financial education workshops for youth and adults 
Develop mutually agreed upon service plans and goals with each participant. 
Provide basic problem-solving casework to participants. 
Promote positive community relations and networks with other agencies. 
Participates in case management meetings, weekly program staff meetings, individual supervision meetings, staff development activities, and interagency meetings. 
Qualifications: 
A bachelor's degree in social work or a related field and/or 3 years of experience related to position. 
Experience in case management and data entry. 
Previous experience in a community-based organization, preferably in the Pittsburgh region. 
Must have strong and polished interpersonal, written and oral communication skills; 
Knowledge of Microsoft Office 
Knowledge of the financial services and mortgage lending industry and/or willingness to learn. 
Knowledge of the FICO scoring system; familiar with federal and state laws regarding lending, personal finance, and banking practices. 
Creative and analytical thinker who is highly organized with the ability to manage multiple projects and tasks. 
COMPENSATION AND BENEFITS  
Just as we do with our community, Catapult Greater Pittsburgh wants our employees to thrive as well. We offer competitive base salary based upon the market and experience. The annual salary range for this role is between $42,000-$46,000. We also offer very meaningful benefits. Specifically, our package includes a generous paid time-off program, paid health, dental, and vision insurance and an IRA plan with a possible employer match.  
Please email your cover letter and resume to brettney@catapultpittsburgh.org to apply!
Apply
Your application has been successfully submitted.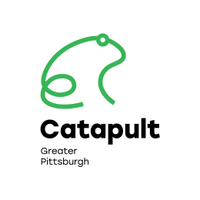 Dedicated to economic justice.